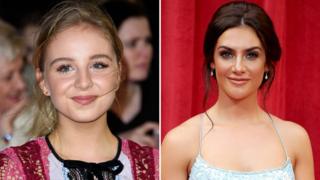 Emmerdale is to feature only female cast members in a special episode on International Women's Day next year.
The one-off special of the ITV soap will also be produced, written and directed by females and there will be "almost an entirely female crew".
Emmerdale's executive producer Jane Hudson said it will be screened on 8 March in recognition of the global event celebrating women's rights.
She said: "We're really excited about this, and really proud to be doing it."
She added: "I think it's the first time a soap has had an all-women team.
"It is International Women's Day, so what we want to do for that episode is to have it produced by a female, written by a female, directed by a female, and the entire cast will be female, including all the background artists."
Emmerdale currently has two female producers and a female executive producer.
The show, set in a fictional farming community, is produced by ITV Studios Yorkshire in Leeds and was first broadcast in 1972.
Past episodes to have made headlines include one featuring a flashback of a character being abused as a child, and another shown from the perspective of a dementia sufferer.