Hurricane Michael — a Category 4 hurricane — churned toward the Florida Panhandle early Wednesday as the state and its neighbors braced for the impact.
Interested in
Hurricane Michael?
Add Hurricane Michael as an interest to stay up to date on the latest Hurricane Michael news, video, and analysis from ABC News.
The storm reached Category 4 status in the overnight hours Wednesday morning with winds of 130 mph.
The storm is expected to remain a strong Category 4 storm by landfall.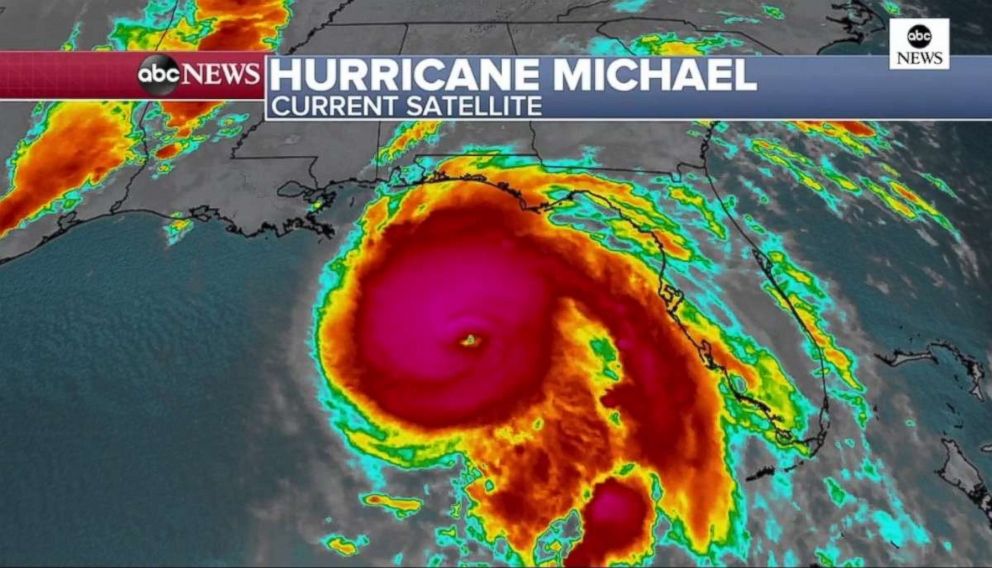 Cameras outside the station captured views of Hurricane Michael at 12:13pm and 12:50pm ET Oct. 9 as the storm churned over the Gulf of Mexico moving northwest at 12 miles an hour. pic.twitter.com/vkiK7xWgMm

— Intl. Space Station (@Space_Station) October 9, 2018
Here is what to expect and when
Wednesday:
— As of the National Weather Service's 2 a.m. update, Michael was 170 miles south-southwest of Panama City, Florida.
— Landfall is forecast for around 1 p.m. Wednesday near Panama City, with winds over 130 mph. (A Category 5 hurricane is over 156 mph, which it is not likely to reach.)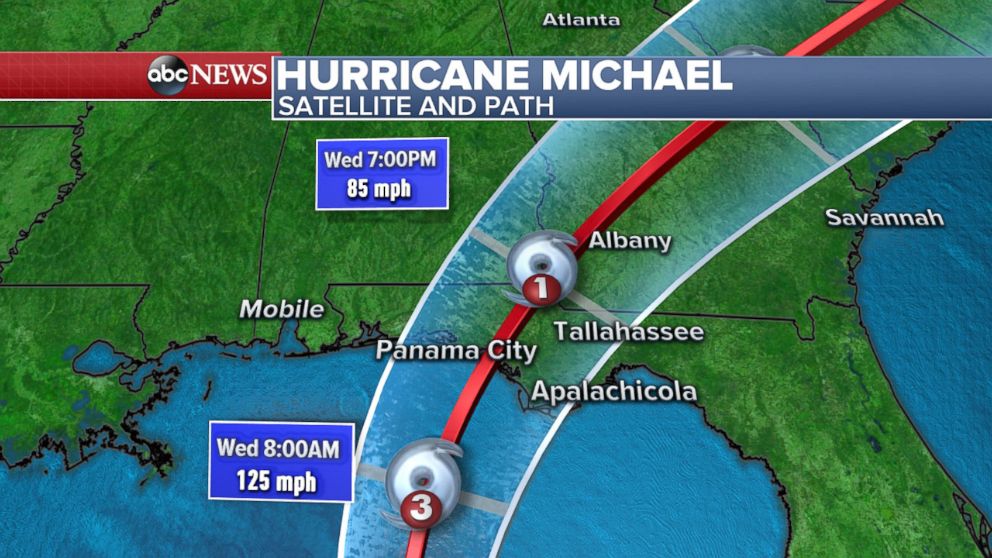 — Storm surge could reach a deadly 13 feet, the National Hurricane Center warned. "You cannot hide from storm surge," Florida Gov. Rick Scott said at a news conference Tuesday. "This storm can kill you."
— Storm surge of 9 to 13 feet is expected from Mexico Beach, Florida, to Keaton Beach, Florida.
Life-threatening storm surge is likely in the Storm Surge Warning area. Water levels will rise WELL IN ADVANCE OF THE CENTER OF MICHAEL. If you're in the warning area, finish preparations to protect life and property today.https://t.co/VyWINDk3xP for the latest in your area. pic.twitter.com/cp19XHAUrt

— NWS (@NWS) October 9, 2018
— The Florida Panhandle will start to see tropical storm strength winds (over 38 mph) in the early morning hours. Hurricane strength winds are expected during the midday.
— Rainfall could reach 12 inches in the Florida Panhandle and up to 6 inches, with isolated totals of 8 inches, in the Carolinas.
— Warnings are in effect for more than 300 miles of coastline, the National Weather Service said.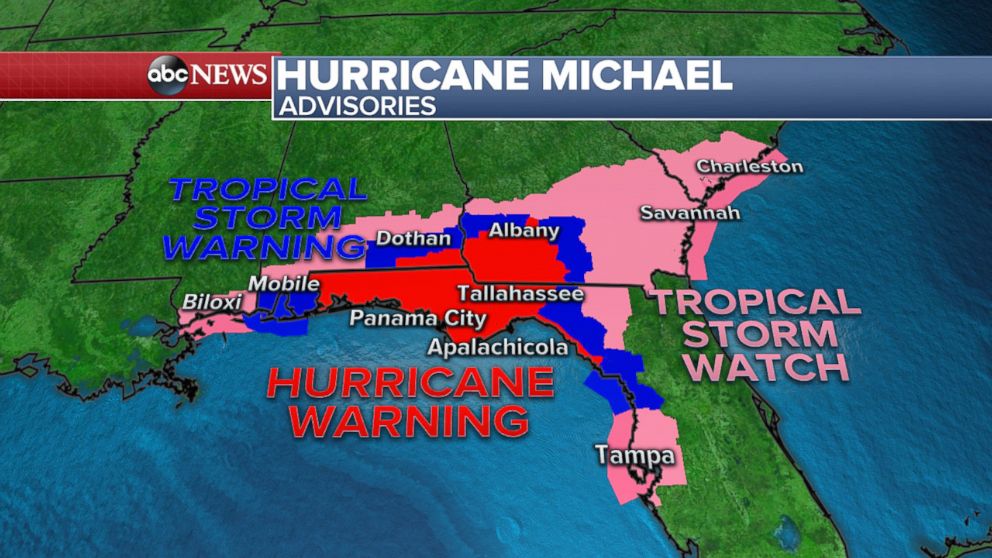 Thursday and after:
— Michael is forecast to stay a tropical storm as it moves through Georgia and into the Carolinas on Thursday.
— The storm is expected to move further inland later in the week, potentially bringing rain and heavy wind to portions of South Carolina, North Carolina and Virginia.