Hurricane Michael, a potentially catastrophic Category 4 storm, is nearing landfall along the Florida Panhandle with 145 mph winds.
Interested in
Hurricane Michael?
Add Hurricane Michael as an interest to stay up to date on the latest Hurricane Michael news, video, and analysis from ABC News.
A Category 4 or 5 storm has never hit the Panhandle in recorded history.
Florida Gov. Rick Scott on Wednesday called Michael the worst storm in that coastal area in 100 years.
"This is a fast storm, but it is going to be like a buzz saw," warned ABC News chief meteorologist Ginger Zee.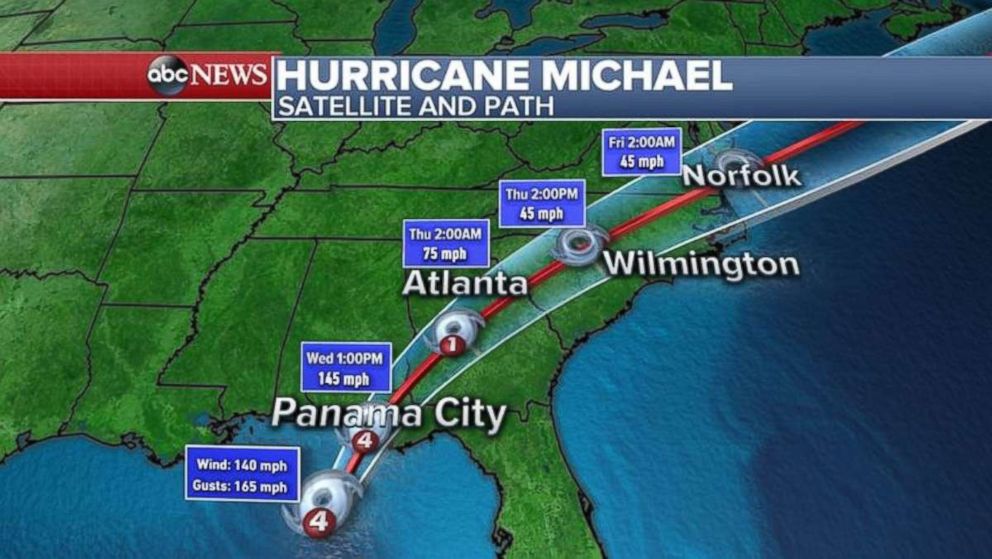 Life-threatening storm surge
The extremely dangerous hurricane, set to crash into the coast midday Wednesday, is forecast to bring heavy rain and life-threatening storm surge of up to 14 feet.
Rain could reach 12 inches in Florida. Water levels were already quickly rising Wednesday morning.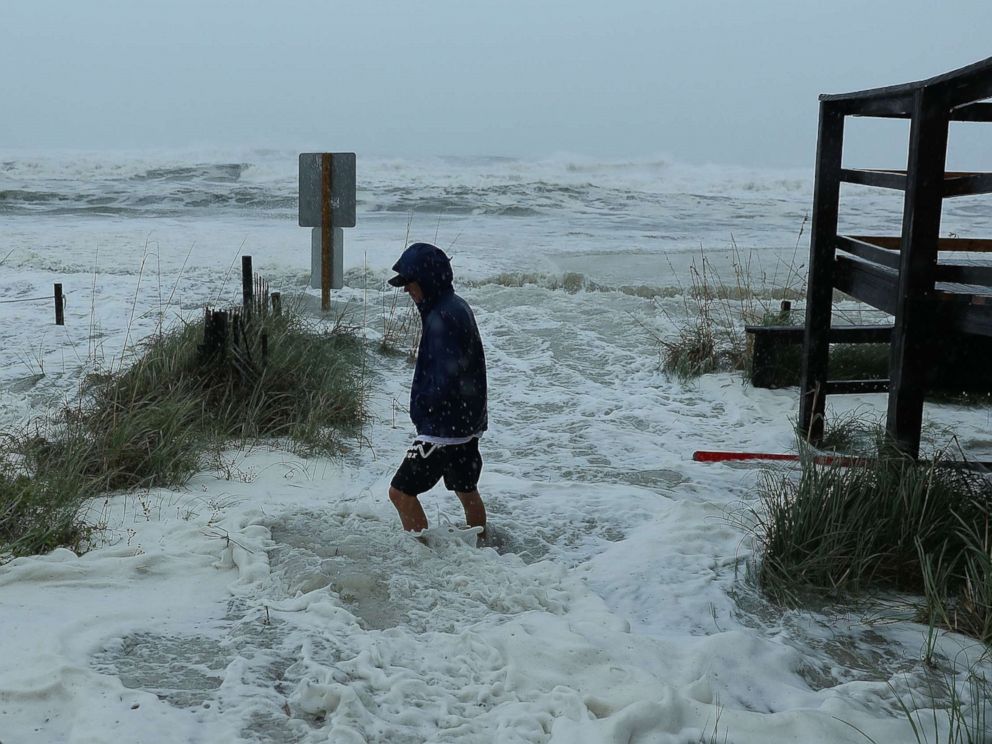 "You cannot hide from storm surge," Scott warned at a news conference Tuesday, calling Michael "monstrous".
"This storm can kill you," Scott said.
Water already well past the boat ramp in Panacea (southern Wakulla county) as #HurricaneMichael storm surge moves in. Coastal locations in Apalachee Bay are holding-steady/slowly-rising, and this is with a outgoing tide. High tide is coming later this afternoon near peak surge. pic.twitter.com/iVpYd501Lb

— NWS Tallahassee (@NWSTallahassee) October 10, 2018
The nation's emergency management director said he hopes people have evacuated areas that are vulnerable to inundation by a storm surge.
"Largely, the storm surge area is the one unforgiving hazard," Brock Long, administrator of the Federal Emergency Management Agency, told "Good Morning America" on Wednesday. "Anybody that doesn't evacuate that experiences storm surge doesn't typically live to tell about that story."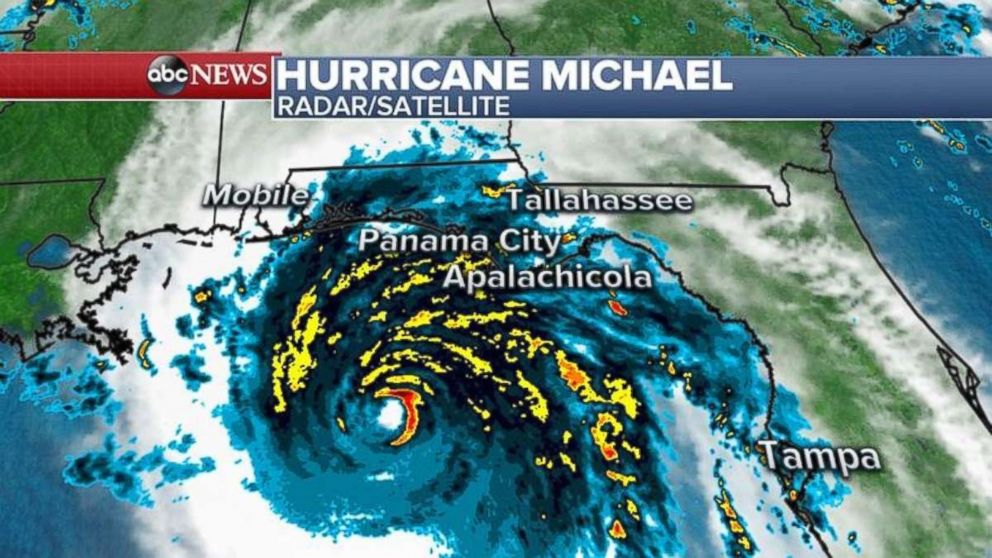 Residents seek shelter
The Panhandle is the wide strip of northwest Florida with the Gulf of Mexico to the south and Alabama and Georgia to the north. Popular with tourists for its beaches, the area also has many year-round residents — its largest city is Pensacola, with a population approaching half a million.
About 375,000 people are under mandatory or voluntary evacuation orders across parts of 18 Florida counties, according to The Associated Press.
By Wednesday morning, it was too late to evacuate the Florida coast. Those who remained were urged to shelter in place.
"First responders will not be able to come out in the middle of the storm," the governor tweeted. "If you chose to stay in an evacuation zone, you must SEEK REFUGE IMMEDIATELY."
Over 50 shelters are open in Florida.
Michael is upon us, it is time to seek refuge. Once you are sheltered, STAY PUT. Do not try to leave until the storm has passed. Multiple state and federal resources are staged and ready to respond as soon as it is safe.

— Rick Scott (@FLGovScott) October 10, 2018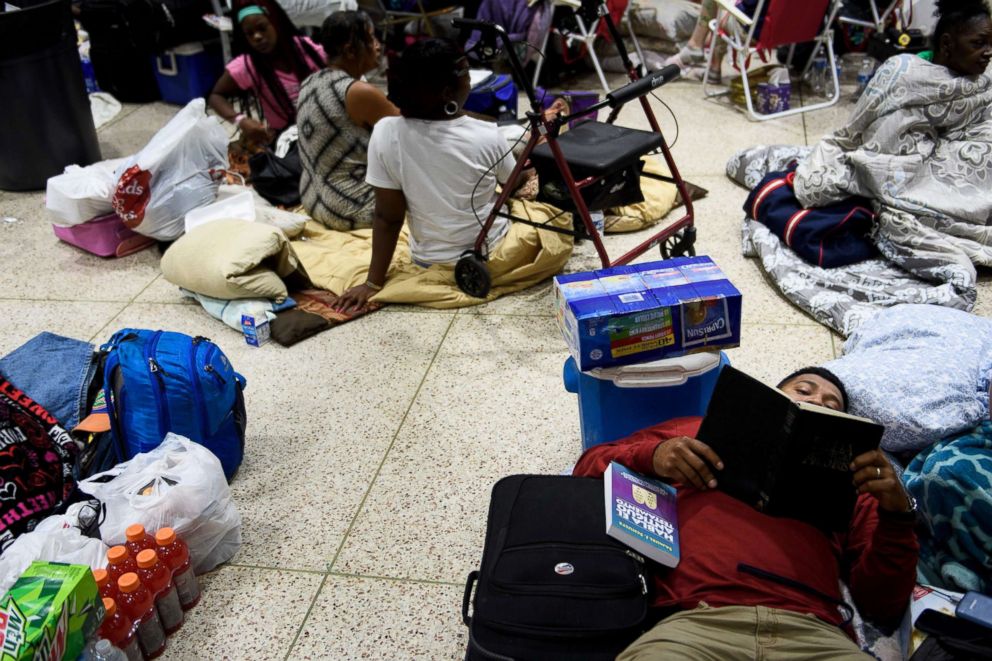 In Carrabelle, Florida, resident Cole Lauzau said she is planning to try riding out the storm at home with her roommate and their dog.
They live across the street from a swamp, so Lauzau is bracing for water to rise up to their home.
For now, Lauzau is trying to plan ahead, making sure they have enough water, food and sandbags.
"We're a little nervous," she told ABC News. "If we can possibly ride it out safely, we're going to try it. And if it gets much worse … we will go."
States of emergency across the South
Scott has declared a state of emergency in 35 counties in Florida. President Donald Trump has approved an emergency declaration for Florida, permitting the federal government to provide resources and aid during the dangerous storm.
After tearing through Florida, Michael will take aim on Georgia, which will be hit by damaging winds and downed power lines.
Gov. Nathan Deal on Tuesday declared a state of emergency for 92 of his state's counties.
"What you're going to see is a storm moving very rapidly through Georgia, and it will maintain hurricane strength through southwest Georgia and central Georgia as it passes through later today and early tomorrow," FEMA's Long told "GMA."
In Alabama, where residents may see massive power outages, high winds and heavy rain, Gov. Kay Ivey issued a state of emergency statewide.
North Carolina and South Carolina will likely see heavy rainfall, which could cause flooding in areas already damaged by last month's Hurricane Florence.
ABC News' Anne Flaherty, Kenneth Moton, Meghan Keneally, Victor Oquendo, Morgan Winsor and Scott Withers contributed to this report.