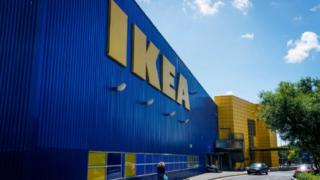 An Ikea engineer has had part of two of his fingers amputated following an accident that happened while he was carrying out store maintenance.
He was checking a faulty fan on the furniture giant's Bristol store roof in November 2016 when he was injured.
Ikea admitted breaching the Health and Safety at Work Act 1974 and was fined £100,000.
Bristol City Council said it found more examples of health and safety breaches at Ikea, such as a lack of fan guards.
The council said the faulty fan and eight others on the roof were unguarded, there was inadequate risk assessment in place for fault-finding or maintenance work of this nature, and the engineer had not received specific health and safety training from Ikea for the work.
Councillor Kye Dudd said: "The health and safety of employees should be a top priority for every employer.
"We take reports of breaches very seriously and where appropriate we will investigate claims of poor practice."
The BBC understands Ikea has since put in place safety precautions to prevent injury from fans and other machinery following an investigation by the council's health and safety inspectors.
Ikea has been contacted for a comment and has yet to respond.
The firm was also ordered to pay costs of £6,407 to the council at a hearing at Bristol Magistrates' Court on 3 October.