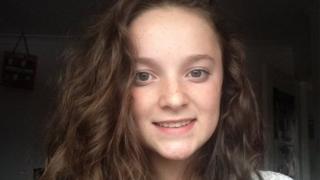 A takeaway owner accused of the unlawful killing of a 15-year-old girl who suffered a nut allergy reaction has pleaded guilty to food safety offences.
Megan Lee died on 1 January 2017 from acute asthma, two days after eating food from the Royal Spice restaurant in Hyndburn, Lancashire.
Mohammed Kuddus, 40, admitted two food safety offences.
Mr Kuddus and Harun Rashid, 38, will go on trial at Manchester Crown Court accused of Megan's manslaughter.
Megan's friend wrote "prawns, nuts" in the comments section of the online order form for food which did not ordinarily contain either ingredient, Manchester Crown Court was told.
Peter Wright QC, prosecuting, said staff paid no attention to the entry and served a meal including an onion bhaji, a Peshwari naan and a seekh kebab which tests later showed had the "widespread presence" of peanut protein.
After the delivery was dropped off at her friend's house the girls shared the food but Megan suffered an "immediate reaction" when she began to eat the kebab.
Her friend noted Megan appeared "lumpy" and the girl's mother gave the 15-year-old some liquid antihistamine which made her feel better.
Megan continued eating and except for a rash on her left cheek she showed no signs of discomfort when her mother, Gemma, collected her to take her home.
Mr Wright said Megan went upstairs to her bedroom but shortly after Mrs Lee heard her daughter call out.
He said: "Megan was in a state of distress. Her lips were swollen and blue, she was struggling to breathe and an ambulance was called. Megan's condition continued to deteriorate. She stopped breathing and her heart stopped."
'Unsafe'
Mrs Lee and paramedics tried to revive Megan but she had suffered irreversible brain damage and was pronounced on 1 January when her life support was switched off, the prosecutor said.
A police investigation was launched as well as a probe by local Trading Standards and environmental health officers who closed the takeaway.
Mr Wright said there were "no procedures in place in relation to allergen management and no audit of their available dishes or written records of their recipes".
He said the premises were not clean and there was evidence of mouse droppings.
Samples of food prepared on the premises were tested and detected the "widespread presence of peanut protein of levels that were unsafe for people allergic to peanuts", Mr Wright said.
Mr Kuddus, of Belper Street, Blackburn, pleaded guilty to failing to discharge a general duty of employers, contrary to the Health and Safety at Work Act.
He also admitted failing to put in place, implement and maintain a permanent procedure or procedures in contravention of European Union food safety regulations.
Mr Kuddus also entered guilty pleas to the same offences on behalf of Royal Spice Takeaway Limited, trading as Royal Spice Takeaway.
His co-defendant, fellow Bangladeshi national Rashid, of Rudd Street, Haslingden, pleaded not guilty to those charges.
Both deny manslaughter.
The trial is expected to begin on Thursday.