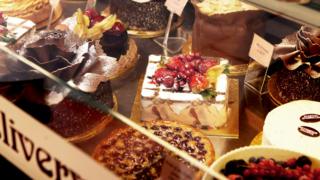 The owner of Patisserie Valerie has said the cafe chain needs "an immediate injection of capital" to continue trading in its current form.
The stark statement to investors comes after the firm uncovered "significant, and potentially fraudulent, accounting irregularities".
It also belatedly discovered HMRC filed a winding-up petition against one of its principal subsidiaries a month ago and is seeking £1.14m in taxes.
The firm has more than 2,500 staff.
The company announced earlier this week that finance director Chris Marsh had been suspended.
---
Patisserie Holdings
It has five brands: Patisserie Valerie, Druckers – Vienna Patisserie, Philpotts, Baker & Spice and Flour Power City.
Now, there are 206 stores across the chain and more than 2,500 staff as of May 2018.
It was floated on the AIM stock market, for smaller companies, in 2014.
The first Patisserie Valerie café was opened on Frith Street in London's Soho district in 1926.
In 1987 the Scalzo family bought the Old Compton Street store and ran the business.
In 2006, Luke Johnson's Risk Capital Partners bought a majority stake when it had eight stores.
---
In its statement on Thursday, the firm said that over the past 24 hours it had "undertaken further investigation into the financial status of the company".
The board found "a material shortfall between the reported financial status and the current financial status of the business".
"Without an immediate injection of capital, the directors are of the view that that is no scope for the business to continue trading in its current form," it continued.
The company said its "professional advisers are assessing all options available to the business to keep it trading and will update the market in due course".
In its most recent results statement in May, the firm said it had cash reserves of £28.8m.