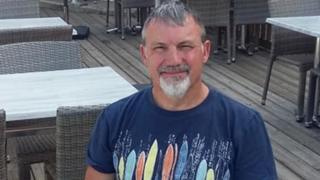 An aircraft has been brought in to search for a kayaker who went missing during a race off the Dorset coast.
Alistair Collier, 60, from Worcester, was last seen at 12:00 BST on Saturday at the start of the course at Knoll Beach, Studland, where his kayak was later found.
An "extensive search" was carried out including lifeboats, police and a helicopter.
A coastguard fixed-wing aircraft is now being used as the hunt continues.
Duty commander Mark Rodaway from HM Coastguard said "there has been no sign" of Mr Collier since Saturday, adding the service was "obviously very concerned for him".
He said: "The search will be extended this morning to other areas to allow for the time that has passed and the possibility that he may have got to safety somewhere else."
The service said organisers raised the alarm at 13:45 BST when Mr Collier did not complete the race on Saturday.
Police said Mr Collier was wearing a red life jacket and was in a white canoe with a stabiliser and a blue stripe on top.
He speaks with a northern accent and is described as 5ft 2in tall and of medium build, with black, greying hair and a goatee beard.