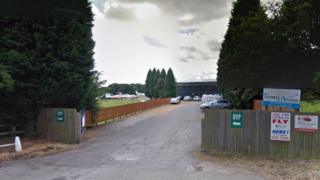 A light aircraft crashed after the pilot suffered cramp in is leg, an accident report has revealed.
The 59-year-old man was taking off from Tatenhill Airfield in Burton upon Trent, Staffordshire when he suffered a cramp spasm.
He extended his leg in an attempt to relieve the "excruciating pain", but this increased pressure on the pedals of the CEA DR221B Dauphin aircraft.
This caused the plane to turn rapidly through 90 degrees, the report said.
The accident happened on 3 June while the pilot was flying solo circuits.
He believes he may have suffered cramp because he did not drink enough fluids, with the 24C (75F) temperature and limited airflow in the cabin also having an effect.
A report published by the Air Accidents Investigation Branch said although the plane remained on the runway, the landing gear collapsed and the propeller hit the ground.