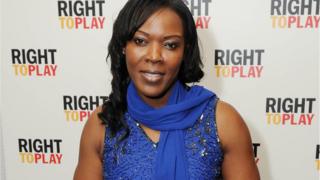 A Paralympian who was left "neglected" on a plane has now joined Stansted Airport as an advisor.
Anne Wafula-Strike was stranded on a Ryanair flight to Stansted in August, despite booking assistance a month in advance, when her plane was delayed.
Stansted has since apologised for the "unacceptable service" and invited her on to its disability forum.
She has agreed and said: "If I just complain without having a dialogue with these people it doesn't help."
The wheelchair racer, 49, from Harlow in Essex, was on a flight back from Berlin when the plane landed two hours behind schedule, and she found herself waiting as the other passengers collected their bags and left.
When a staff member arrived to help her 45 minutes later she said they told her they were short-staffed and had been unsure if her flight had arrived.
The experience left her feeling "angry and very neglected" but the 2012 Paralympics athlete said the airport has "put their hands up".
Mrs Wafula-Strike said the airport's disability forum, set up to improve the experience of passengers with accessibility issues, was not just "lip service".
"Just because someone has a disability it does not mean they should be closed out from making things better," she continued.
"As a disabled person I realise that things can be better if I tell them how they can be better for me."
Following on from her experience, she met the airport's head of passenger services, Neil Banks, who said the incident "was the result of some ground-handling staff being out of position due to the volume of late-running aircraft at the time".
He added: "We are working with all our airport partners to avoid any repeat of this type of issue, especially during periods of operational disruption."