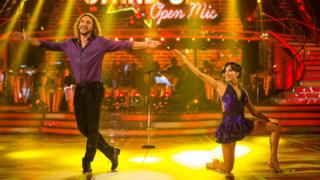 The girlfriend of comedian Seann Walsh has insisted she is "not a victim", after he admitted kissing his Strictly Come Dancing partner.
Walsh and Katya Jones, who is married to fellow Strictly professional Neil Jones, apologised after they were pictured kissing on a night out.
In a tweet, actress Rebecca Humphries implied she had left Walsh, taking the cat with her.
A representative for Walsh declined to comment, and neither has the BBC.
In her post, Humphries said she had suspected something was going on but that Walsh had called her a "psycho" for saying so.
"It's incredibly good of Sean(n) and Katya to apologise in the media," wrote the actress, who has had roles in comedy shows including Big Bad World and Cockroaches.
"I have received nothing, other than the support of my family, friends, and a host of strangers on the internet who all wanted to make sure I was OK. "
Humphries said the pictures of the pair were taken on her birthday and she was alone at home when Walsh texted to say they were going for "one innocent drink".
"We spoke and I told him, not for the first time, that his actions over the past three weeks had led me to believe something inappropriate was going on," she said.
"He aggressively, and repeatedly, called me a psycho/nuts/mental. As he has done countless times throughout our relationship when I've questioned his inappropriate, hurtful behaviour."
She said the incident had "served to remind me that I am a strong, capable person who is now free; and no victim".
"I have a voice and will use it by saying this to any woman out there who deep down feels worthless and trapped with a man they love," she added.
"Believe in yourself and your instincts. It's more than lying. It's controlling. Tell some very close friends who, if they're anything like my wonderful network, will swoop in and take care of the logistics and of you."
She said such behaviour came from "a place of vulnerability" and "it certainly does in Sean's case", adding "I'm not sorry I took the cat though."
Humphries' post has prompted messages of support from both celebrities and members of the public.
"You took more than the cat with you, you took your pride, your dignity and your self worth," tweeted pop star turned TV presenter Myleene Klass.
Loose Women panellist Stacey Solomon praised Humphries for her "powerful, important message", while Carol Vorderman wrote: "You deserve the best."
"Good on you for speaking out and giving others strength in the process," wrote Twitter user Kate Selby.
'Drunken mistake'
The photographs of Walsh and Jones, reportedly taken on a night out in London last week, were first published in the Sun on Sunday.
Walsh, 32, later apologised on Twitter, writing, "This is no excuse but it was a one-off drunken mistake which I am truly sorry for."
Jones, 29, said the kiss was a "one-off mistake after some drinks".
"I'm so sorry about any offence or hurt I may have caused with my actions," the dancer tweeted.
"I love my husband and we are very happy together, this is not a reflection on our relationship."
'Less sexy'
Tuesday's Sun newspaper quotes "sources" saying Humphries has moved out of the flat she shared with Walsh. It also claimed the Strictly judges wanted Walsh and Jones to be "kicked off" the show.
But a BBC spokeswoman dismissed the latter claim as "nonsense". She also declined to comment on another report claiming the dance Walsh and Jones are set to perform on Saturday's Strictly show had been changed to something "less sexy".
There was no mention of the Walsh-Jones matter on Monday's edition of Strictly's BBC Two spin-off show It Takes Two.
Follow us on Facebook, on Twitter @BBCNewsEnts, or on Instagram at bbcnewsents. If you have a story suggestion email [email protected]