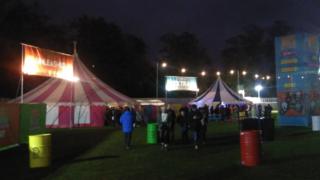 Ticketholders attending a comedy festival have reacted angrily after claiming they spent £20 to "stand in a field" and could not see any acts.
Some going to Comedy Central Live! in Southampton on Saturday said they were not told they needed extra tickets to see performers, having paid to get in.
Fans took to Twitter after the event – featuring acts such as Jimmy Carr – saying, "the joke is on us".
Comedy Central said customers were told tickets for acts were not guaranteed.
The entertainment company said ticketholders were "informed at the time of purchase – and reminded subsequently" they would need extra tickets.
In a statement, it said the free tickets were necessary to "manage excess demand and ensure the health and safety" of those attending, claiming the festival was "fantastic value for money".
The event, which took place in Hoglands Park, offered what it called an "extraordinary few days of laughter-making" for festival-goers.
Russell Howard, Katherine Ryan and Reginald D Hunter were among those performing at the three-day event.
After entering the event, ticketholders were told they needed to get further free tickets for individual performances, many of which had already all gone, in what some described as "absurdly small tents".
This led to claims the event had been "oversold", with many people unable to bag seats for tents to see headline comedians.
This was no laughing matter for punters, with Steve Mills writing on twitter that it was a "comedy shambles", adding it was the "strangest /worst thing I've ever been too".
Other fans said they had queued for up to four hours to find out tickets had all gone. Many called for their entry fee to be refunded.
Chris Just jokingly called the event "Conedy Central" on the social media site.
Others however, stuck up for the event, with Adam Giles saying he had "an excellent day".
He posted: "Organisation wasn't up to much, but we saw everything we wanted. Can't help but feel people are exaggerating, hugely, saying they bought tickets and saw no-one."