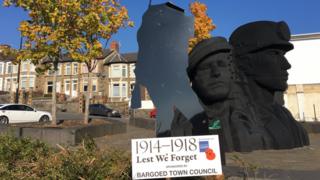 Police are investigating the vandalism of memorials marking the centenary of the end of the World War One.
'Silent Silhouettes' of soldiers have had heads and rifles removed in separate incidents at Bargoed and Bridgend.
A Royal British Legion spokesman said it was "shocked and saddened" by the attacks by vandals.
Bargoed mayor Alan Higgs said the incidents showed the culprits did not realise their symbolic importance.
"They represent the passing of the soldiers killed in the First World War," he said.
Gwent Police is appealing for witnesses to the Bargoed incident which happened between Saturday evening and Monday morning.
Meanwhile, South Wales Police is appealing for witnesses to a separate incident in Bridgend which saw soldiers' sculptures in Market Street damaged with rifles and rifle stocks removed before 1 October.
Local councillor David Unwin said he was "appalled", adding: "They were fighting for our freedom. And it is the very people that have caused this problem, whose freedom they were fighting for. It's extremely sad."